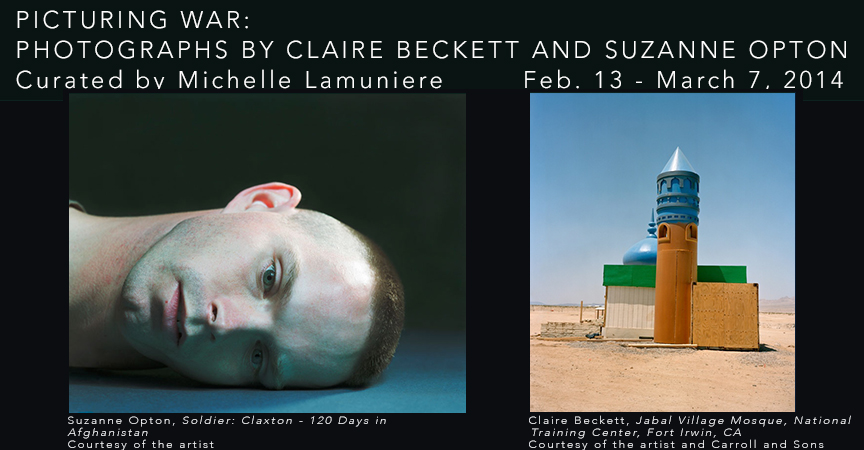 PICTURING WAR: PHOTOGRAPHS BY CLAIRE BECKETT AND SUZANNE OPTON, Feb. 13 – March 7, 2014
OPENING RECEPTION: February 13, 2014 from 5:00 to 8:00 p.m.
PANEL DISCUSSION: February 13, 2014 from 6:00 to 7:00 p.m.
For her Simulating Iraq project, Claire Beckett photographs role-playing exercises at U.S. military training centers. In settings fabricated to look like Iraqi villages, soldiers and civilians in Middle Eastern dress enact engagement scenarios used to prepare troops for deployment. Beckett's work conflates identities—both of people and place—creating an ambiguous reality that elicits both curiosity and confusion from the viewer.
The subjects of the intimate close up portraits in Suzanne Opton's Soldier series are American military personnel that have served in Iraq and Afghanistan. While requested to lay their heads on a table, few of her subjects seem at ease, their wartime experiences internally manifested but only suggestively visible on their faces. Opton's portraits convey individuality and vulnerability, countering the fearlessness and strength we have come to associate with the military, particularly in America.
There is a performative aspect in both photographers' work—whereas the players in Beckett's photographs simulate activities associated with today's wars, Opton's subjects express the internalized actuality of that experience. Both photographers interpret aspects of soldiers' experiences of war—as an artificial construction in the case of Beckett's trainees and as the unimaginable reality hidden in the faces of the veterans in Opton's portraits.
Claire Beckett holds an MFA in Photography from the Massachusetts College of Art and teaches photography at the School of the Museum of Fine Arts, Boston. Represented by Carroll & Sons (Boston), her work has been shown nationally and internationally, including solo exhibitions at the Wadsworth Atheneum (Hartford, CT) and the University of Rhode Island.
Suzanne Opton is a self-taught photographer whose work is strongly influenced by performance art. The recipient of a 2009 Guggenheim Fellowship among other awards, she teaches at the International Center of Photography. Her work was recently shown in solo exhibitions at the Chrysler Museum (Norfolk, VA) and the Linfield Gallery at Linfield College (McMinnville, OR).
Michelle Lamunière is the Photography Specialist at Skinner Auctioneers and Appraisers in Boston and Marlborough, Massachusetts. For over twelve years, she served as a curator of photography at the Harvard Art Museums/Fogg Museum. Lamunière has written on contemporary photography for Exposure and Contact Sheet and curated exhibitions for the Addison Gallery of American Art and Harvard's Carpenter Center for the Visual Arts. She holds a Ph.D. in Art History (2009) from Boston University.
The Dorrance H. Hamilton Gallery is located in the Antone Academic Center on the campus of Salve Regina University.  It is handicap accessible with parking along Lawrence and Leroy Avenues.  Its exhibits are open Tuesdays and Thursdays 11:00 to 6:00 p.m., Wednesdays and Fridays 11:00 to 5:00 p.m., and Saturdays and Sundays noon to 4:00 p.m.  The gallery is closed on Mondays.
https://art.salvereginauniversity.com/wp-content/uploads/2013/12/Picturing-War-WEB-update.jpg
450
864
Web Master
http://art.salvereginauniversity.com/wp-content/uploads/2019/04/galllery_logo_wht-300x100.png
Web Master
2013-11-19 20:55:49
2019-09-18 14:22:59
PICTURING WAR: PHOTOGRAPHS BY CLAIRE BECKETT AND SUZANNE OPTON, Feb. 13 – March 7, 2014