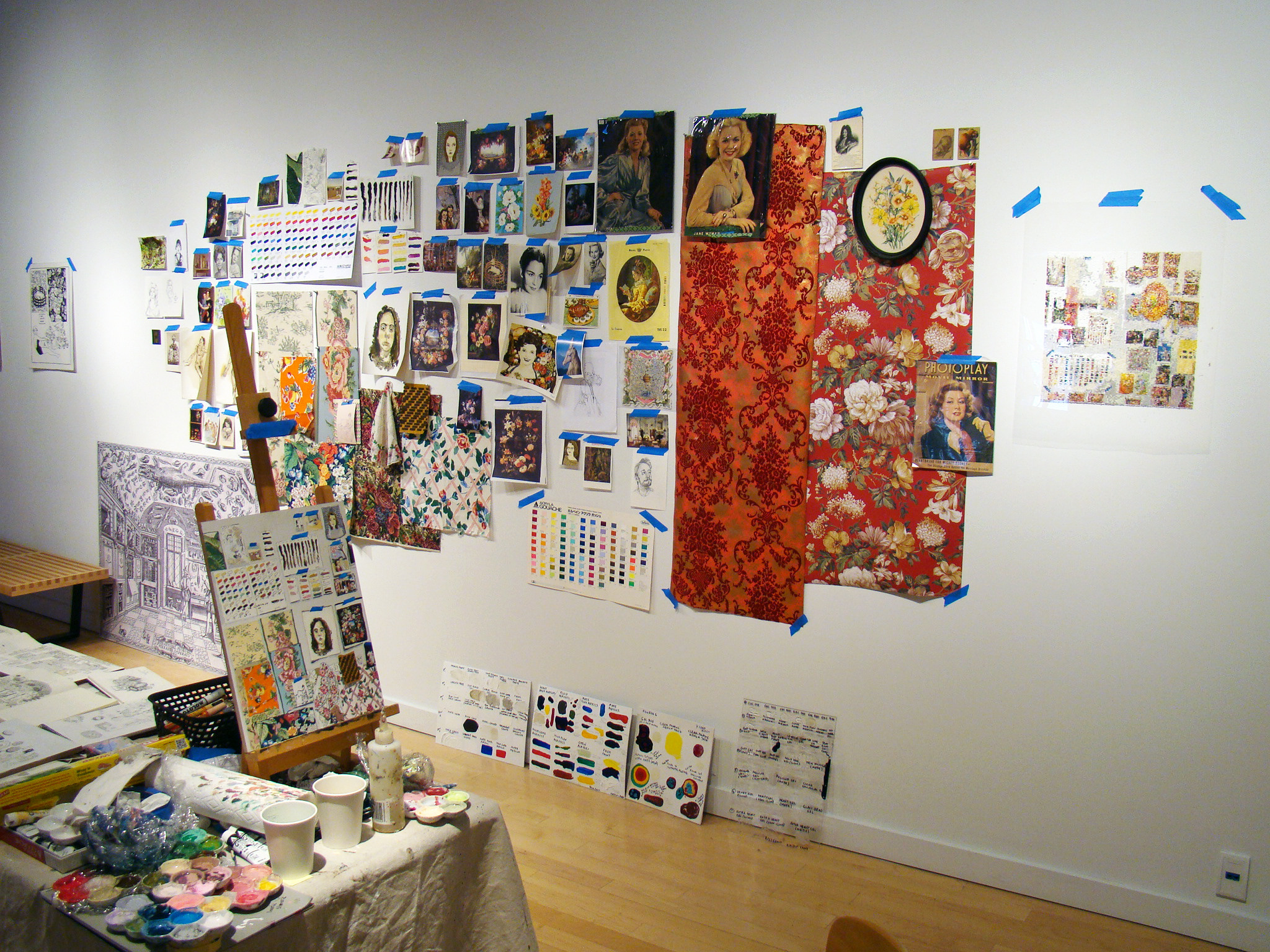 Rhode Island-based painter Kirstin Lamb, the Department of Art and Art History's first artist-in-residence, is relocating her studio practice to the Dorrance H. Hamilton Gallery for two weeks following the Thanksgiving holiday. During this period, Lamb will share her creative process with the Salve Regina community and incite new opportunities for learning and collaboration on campus.
Lamb's recent installations involve assortments of paintings, drawings and hand-painted props that she stacks, leans and composes to enliven architectural space. Portraits, floral flights of fancy, images reminiscent of embroidered sweaters, color wheels and Pennsylvania Dutch hex signs coexist in elaborate arrangements of pattern and decoration. She describes her interest in "claustrophobic saccharine spaces that overwhelm with sweetness, yet quietly chastise that impulse and its attendant guilt." Her work is both intimate and expansive, exploring gender and craft through a devotion to handmade details.
The gallery is handicap accessible with parking along Lawrence and Leroy avenues. Its exhibits are open 11 a.m. to 6 p.m. Tuesdays and Thursdays, 11 a.m. to 5 p.m. Wednesdays and Fridays and noon to 4 p.m. Saturdays and Sundays. The gallery is closed on Mondays.
https://art.salvereginauniversity.com/wp-content/uploads/2018/01/24780717777_0d1e475ac7_k.jpg
1536
2048
Web Master
http://art.salvereginauniversity.com/wp-content/uploads/2019/04/galllery_logo_wht-300x100.png
Web Master
2018-01-17 18:29:55
2019-09-18 14:23:53
Kirstin Lamb